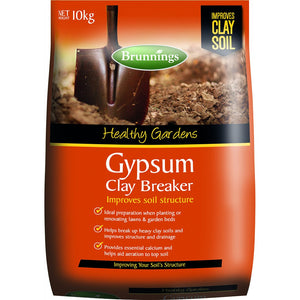 Brunnings Gypsum Clay Breaker is a soil conditioner that helps break up clay and adds Calciums.

It is great for:
- Breaking up heavy clay soils.
- Making soils more workable.
- Improving soil structure and drainage.
- Preparation when planting and renovating lawns and garden beds.

Best applied when planting or renovating lawns and garden beds as it helps to break up heavy clay soils, improves structure and drainage, adds calcium and aids aeration to top soil.

Dig the soil to a depth of 10-15cm, making sure to break up any large clods. Apply Gypsum at the rate of 1kg per square metre, and rake or dig into soil. If soil consists of very heavy clay you may need to apply 2kg per square metre. If the soil is dry, be sure to water in well after application.

Delivery Information
We are committed to delivering the best possible service to our customers. Plants are a fragile item to deliver so where possible we prefer to transport plants via our own transport.
We offer delivery every week to most areas within Greater Sydney in our Honeysuckle trucks.
Fees start from $40 for local area drop off. Enter your postcode in the checkout to see if your suburb qualifies.
This covers one man delivering any amount of stock, be it 1 bag of mix or 30 pots, dropped off within 10m from where we can park our delivery vehicle. 
Need further help?
In circumstances where the delivery must be carried through (be it through to a backyard or up a flight of stairs), we charge a further fee to cover the additional time or additional labour where required. 
Please let us know on checkout if you require more than drop off delivery. Extra charges will apply.
Deliveries out of area, crane requirements or over sized specimen plants and or pots will be quoted and approved before delivery. We aim to do these deliveries as economically as possible, and if you have a particularly complicated delivery, we recommend you get in touch with us in advance so we can provide you a price or estimate.
Click & Collect - In Store Pickup
Please allow between 24-48 hours to collect your order in store. Sometimes products need to be transferred between our stores. If your order is urgent - give us a call, and we'll see what we can do! 
Mosman: (02) 9953 8361
Turramurra: (02) 9487 3888