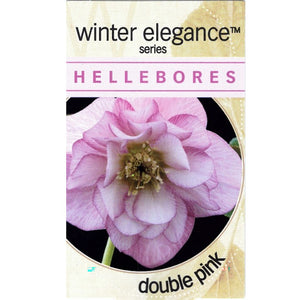 Helleborus double pink 14cm
*Please contact or visit your closest store for actual images of plants available. Website images are a guide only.

This beautiful Hellebore is part of the Winter Elegance series which have been developed from one of Australia's finest specialist collections. This long-term breeding program comprises of extremely careful selection of the best stock plants that are then hand pollinated. The result is a collection of quality strains of tough gardenworthy Hellebores with superior flower colour & form.

The plants are part of the "Helleborus x hybridus" family and grow approximately 45cm tall x 45cm in width. Their foliage is evergreen & mainly flower from June till September.
Delivery Information
We are committed to delivering the best possible service to our customers. Plants are a fragile item to deliver so where possible we prefer to transport plants via our own transport.
We offer delivery every week to most areas within Greater Sydney in our Honeysuckle trucks.
Fees start from $40 for local area drop off. Enter your postcode in the checkout to see if your suburb qualifies.
This covers one man delivering any amount of stock, be it 1 bag of mix or 30 pots, dropped off within 10m from where we can park our delivery vehicle. 
Need further help?
In circumstances where the delivery must be carried through (be it through to a backyard or up a flight of stairs), we charge a further fee to cover the additional time or additional labour where required. 
Please let us know on checkout if you require more than drop off delivery. Extra charges will apply.
Deliveries out of area, crane requirements or over sized specimen plants and or pots will be quoted and approved before delivery. We aim to do these deliveries as economically as possible, and if you have a particularly complicated delivery, we recommend you get in touch with us in advance so we can provide you a price or estimate.
Click & Collect - In Store Pickup
Please allow between 24-48 hours to collect your order in store. Sometimes products need to be transferred between our stores. If your order is urgent - give us a call, and we'll see what we can do! 
Mosman: (02) 9953 8361
Turramurra: (02) 9487 3888