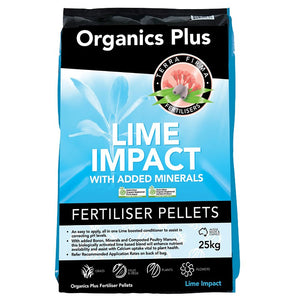 Lime Impact is an EASY-TO-SPREAD pelletised lime blend - a ground-breaking innovation combining fully composted organics, high calcium lime, boron and silicon with the advantages of broad-spectrum background nutrition to support healthy soils and plants.

Calcium is the KING mineral because it impacts on all three Soil Health areas - physical, chemical and biological. Calcium helps improve soil pH which leads to better nutrient availability and opens up soil structure to improve aeration and drainage. Soil biology can perform better in well-aerated/oxygenated soils. Calcium and silicon are important for cell strength and disease resistance in plants and it is boron that determines the availability and movement of these vital elements.

Boron activates calcium uptake and movement within the plant and when calcium is more mobile it improves photosynthesis which, in turn, increases sugar content and cell turgor (plant cells become fully hydrated and hold onto this cellular moisture for longer). The end result is improved tolerance of moisture stress and longer shelf-life.

The Organic matter component of Lime Impact, stimulates biology, improves soil structure and helps improve water-holding capacity. Root systems grow deeper, as a result, and gain access to a larger soil volume. In addition the nutrients in Lime Impact are delivered in a low salt index form so the plant uses soil moisture more efficiently. Lime Impact is easily spread and can be placed accurately without the fear of excessive fine dust being lost in the breeze.


Delivery Information
We are committed to delivering the best possible service to our customers. Plants are a fragile item to deliver so where possible we prefer to transport plants via our own transport.
We offer delivery every week to most areas within Greater Sydney in our Honeysuckle trucks.
Fees start from $40 for local area drop off. Enter your postcode in the checkout to see if your suburb qualifies.
This covers one man delivering any amount of stock, be it 1 bag of mix or 30 pots, dropped off within 10m from where we can park our delivery vehicle. 
Need further help?
In circumstances where the delivery must be carried through (be it through to a backyard or up a flight of stairs), we charge a further fee to cover the additional time or additional labour where required. 
Please let us know on checkout if you require more than drop off delivery. Extra charges will apply.
Deliveries out of area, crane requirements or over sized specimen plants and or pots will be quoted and approved before delivery. We aim to do these deliveries as economically as possible, and if you have a particularly complicated delivery, we recommend you get in touch with us in advance so we can provide you a price or estimate.
Click & Collect - In Store Pickup
Please allow between 24-48 hours to collect your order in store. Sometimes products need to be transferred between our stores. If your order is urgent - give us a call, and we'll see what we can do! 
Mosman: (02) 9953 8361
Turramurra: (02) 9487 3888