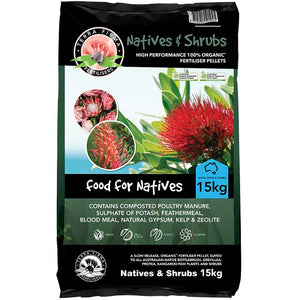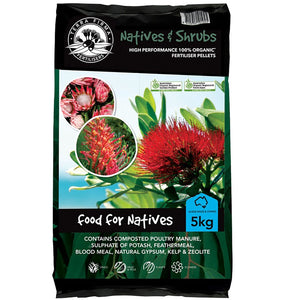 Native food organic pelletized
Terrafirma's Native & Shrubs fertiliser has been developed to cater to the requirements of native plants, trees and native grasses. This product contains a composted base of Poultry Manure with added Sulphate of Potash, Feathermeal, Blood Meal, Kelp & Zeolite.

A slow release, high nitrogen and low phosphorus blend that contains all the major and trace elements but in a ratio suited to the growing needs of these plants. Terra Firma's Natives & Shrubs is suitable for all soil types that are too high in phosphorus. The inclusion of Natural Gypsum will add Calcium and Sulphur without changing the pH of the soil. Feathermeal provides the slow release nitrogen form, however combined with Blood Meal will also deliver an upfront nitrogen release. Sulphate of Potash ensures the flowers and fruit keep coming.

Not only is Natives & Shrubs perfect for all your Natives including Bottlebrush, Grevillea, Protea, Kangaroo Paw Plants Shrubs and Native Grasses, but can be used in the whole garden. Natives & Shrubs is great for Palms, use in the vege garden or on fruit trees and is suitable for all lawn varieties.
Delivery Information
We are committed to delivering the best possible service to our customers. Plants are a fragile item to deliver so where possible we prefer to transport plants via our own transport.
We offer delivery every week to most areas within Greater Sydney in our Honeysuckle trucks.
Fees start from $40 for local area drop off. Enter your postcode in the checkout to see if your suburb qualifies.
This covers one man delivering any amount of stock, be it 1 bag of mix or 30 pots, dropped off within 10m from where we can park our delivery vehicle. 
Need further help?
In circumstances where the delivery must be carried through (be it through to a backyard or up a flight of stairs), we charge a further fee to cover the additional time or additional labour where required. 
Please let us know on checkout if you require more than drop off delivery. Extra charges will apply.
Deliveries out of area, crane requirements or over sized specimen plants and or pots will be quoted and approved before delivery. We aim to do these deliveries as economically as possible, and if you have a particularly complicated delivery, we recommend you get in touch with us in advance so we can provide you a price or estimate.
Click & Collect - In Store Pickup
Please allow between 24-48 hours to collect your order in store. Sometimes products need to be transferred between our stores. If your order is urgent - give us a call, and we'll see what we can do! 
Mosman: (02) 9953 8361
Turramurra: (02) 9487 3888